We wish you welcome on the internetsite of our pilgrimsrefuge 'Nos Repos'.

All our assistants work as volunteer. Anybody has made one or more Ways to St. James de Compostela.
They do their work on the principle: pilgrims for pilgrims! It means that your contribution is meant for the continuation of this pilgrimsrefuge.
We wish you a very good stay with us in our Pilgrimsrefuge 'Nos Repos'.

Adress:
Refuge "NOS REPOS"
La Croix
F 18600 Augy Sur Aubois
France
Telephone : 00 33 (0)248 746 830 or 00 33 (0)964 185 466


How to find the refuge

Our refuge is situated along this old route. The GR 654 follows, as far as possible, this antique road trough the nicest landscapes of central France. Take in Apremont-sur-Allier the Direction Sancoins, then follow the Canal du Berry for about 7 km and turn left and follow the arrows.


Auberge Nos Repos weergeven op een grotere kaart

Whereabouts of the refuge

Our refuge-hostel is open from March 19 until the middle of October. Please inform us, if possible, one day in advance by telephone. The hospitaleros are at your service from 4 PM. If you arrive earlier and there are not yet hospitaleros, please wait at the terrace, install yourself in a comfortable easy-chair and enjoy the panorama.

Charges: 11 EUR per person per night. There are small kitchen facilities available.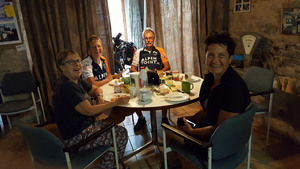 Foto: Jan Veldhoen

In the village is a small restaurant near the church. This restaurant has also a small supermarket (open from 7 AM till 20.30 PM). The restaurant and shop are closed on Tuesday-evening from 12.00 PM and Wednesday the whole day. When the restaurant is closed, there is still a possibility to have a meal together with the hospitaleros for a small fee.

Foto: Jan Veldhoen